Feature_Pages > Mountain Biking near Betws-y-Coed
Mountain Biking near Betws-y-Coed
The Betws-y-Coed area of North Wales has some of the best mountain biking trails in the UK!
Snowdonia is quickly becoming known as an area ideally situated and resourced for mountain biking.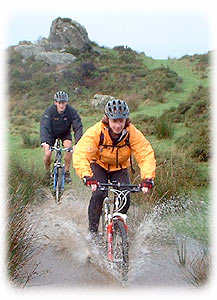 Whether you are interested in gentle rides to explore the local history and hidden valleys of the region or desire a challenging epic ride, which offers glorious views of Snowdonia, there is something here to suit the needs and desires of everyone.
There are way marked trails and maps available for those wishing to base themselves in Betws-y-Coed and an extensive network of ancient trails and bridleways dissecting the valleys and hill tops for which Ordinance Surveymaps indicate rights of way for cyclists. Several guide books are available illustrating and describing some of the excellent routes in the region.
The Marin Trial is a major Forest Enterprise scheme similar to the venue at Coed-y-Brenin. The Gwydyr Wales Bike Project is constructing a purpose built, cross-country route of an all-weather single track, designed and constructed by a local team of trained track builders. This development in the Gwydyr Forest will also be joined by a separate scheme run by the Eryri (Snowdonia) Bike Club and is developing down hill and dual slalom courses with a trials area.